---
I LIKE IKE - Page 2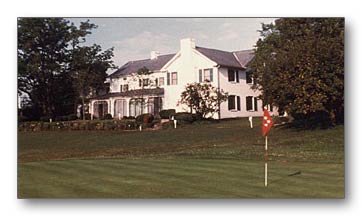 Ike often used this room to entertain world dignitaries, especially when he'd get two or more heads of state from countries that didn't quite see eye to eye.  Ike would escort them to the back porch and leave and them alone while he went for drinks.  By the time he returned with cocktails they were well on their way to finding they had more in common than they wanted to believe. 
Maybe it was that simple Kansas back porch feeling from Ike's youth, maybe the view, or perhaps they simply discovered Americans lived pretty simple lives, no palaces, no pretentions, just comfortable furniture, cocktails, pleasant conversation and Ike and Mamie, the symbols of Post War America.
Ike's had an office in the house, a small, unassuming room that resembled an office in an Army base Quonset hut. There is one distinctive item in the office. 
During a renovation at the White House, Mamie asked the carpenters if they could make a corner cabinet out of the old pine lumber they were tearing out. The carpenters built the cabinet with two doors and thirteen panes of glass to represent the original thirteen colonies. Mamie gave the cabinet to Ike for Christmas. The cabinet is in the den adjacent to the office. Using the remaining old White House lumber the carpenters, on their own, fashioned a beautiful but simple pine desk for Ike's office and gave it to him as their gift.
Ike's Gettysburg office most clearly epitomizes Ike; a man of plain and practical taste.  After Ike had his heart attack on September 23, 1955, he spent many months recuperating here and signed every piece of legislation in this tiny office on that simple pine desk. Ike and Mamie moved 36 times during Ike's time in the military, this was their first and only home.
In the entryway Kay points out two items; a guest book and a china cabinet. Mamie had every visiting dignitary sign her guest book. Nikita Khrushchev was the only one who did not sign it; Mamie was away that day.
The china cabinet is a waist high, glass front china cabinet, and perhaps the most telling insight into Ike and Mamie.  Inside the case were numerous items, many are priceless, Tiffany glassware and silver goblets, a gift from Queen Elizabeth and a host of others.  Kay points to six three inch tall figurines. They are the likeness of George and Martha Washington, Abe and Mary Todd Lincoln and Ike and Mamie Eisenhower. 
"Any idea what those are and what they're made of?" our guide Kay asks.  I shrug my shoulders and shake my head as do the other visitors.  "They're plastic," Kay grins.  "Mamie got them as prizes in cereal boxes and thought they deserved a place here with all these other fine items."  
Kay indicates a plate with Mamie and Ike's image on it. "Some store was offering those plates as a promotion.  Mamie could have sent someone to get one, but that wasn't her way. Instead she went herself, stood in line with everybody else, paid $2.00 and got her own."  Mamie was a lady with manners and grace and a very good sense of humor.  You have to love someone like that.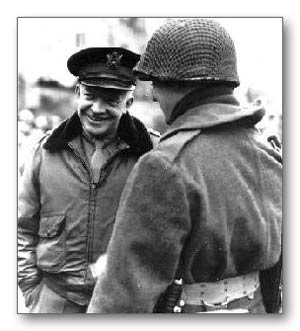 During WWI Ike was stationed at Camp Colt in Gettysburg.  Nearly fifteen thousand troops were stationed there on the field where Pickett's charge took place. The camp was set up to train soldiers to be a part of the Tank Corp.  The problem was the government wouldn't give them a tank. 
Ike didn't want to be there, he wanted to be on the front lines in Europe, but he took his assignment in stride.  He mounted a machine gun in the bed of a horse drawn wagon and taught the recruits the techniques of firing from a moving vehicle.
Ike never did make it into the fray during WWI, but he persevered through peace time.  A colonel at the beginning of WWII he rose quickly through the ranks to become the Supreme Commander of all Allied Forces in Europe. 
With great diplomatic skill he united generals and world leaders alike. His organizational skills, his clear and simple common sense and judgment lead him to success on June 6, 1944, D-Day, the largest amphibious invasion in the history of the world.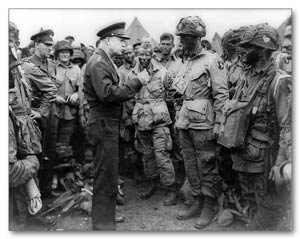 Days of inclement weather made the decision to go forward with the invasion extremely difficult and iffy matter.  Ike made the decision with these simple words, "Let's go for it." 
It has been my experience that individuals who possess and use great power in the best interest of those around them don't have to tell you about it, they are quiet, clear, simple and unassuming, people, like Ike, someone you'd like to know. 
---
Back to Page 1 | Region's Road Archive | Listen Now | Download | Subscribe via iTunes