---
I grew up in the 1950's. I am what is referred to as a "Baby-Boomer," an over used term I truly dislike. The expression has taken on a variety of pop-culture meanings used to neatly pigeon-hole people and an era.
World War II was a time when the world rose up against tyranny and stopped it. The generation that did this didn't have a name really, oh some referred to the intellectual set as the 'Lost Generation" but in America those who weren't wealthy or well educated were mostly they just plain people, everyday John Does.  It matters little what term is used to describe that generation, what matters is that when the second world encompassing war thrust itself upon them, they stood on their hind legs and paid a huge price for their courage. When these men returned home, after three or four years of war, they wanted to put behind them the very real and unimaginable horrors they had experienced, they wanted to return to a normal life. They wanted to find a woman to love, they wanted marriage, children, family.  They wanted a home, they wanted steady work.  These were the same men who had struggled through the Great Depression of the 1930's, and they deserved a chance at a good life.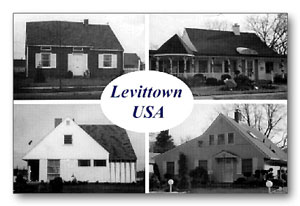 The returning soldiers had the GI Bill which allowed for schooling or home loans, but there was a shortage of homes.  Then in 1951 along came William Levitt. He created a community called Levittown on Long Island, New York and in doing so created the American Suburb. During the Depression it was virtually impossible for working class people to own a home. Suddenly that unreachable dream was reality.
Today's pop culture generation delights in nostalgia and cynicism by referring to that time as the "Ward and June Cleaver" time, as if that time was trite and superficial.  It was also Father Knows Best and Donna Reed and Ozzie and Harriet time too, although I preferred The Life of Reilly because he was a working class guy like my father. I didn't identify with those 'everything is perfect in our world' TV shows because my life wasn't like that. To be honest I didn't know anybody who lived like that.
What all these TV shows did have in common was something to which these returning soldiers could aspire, a sense of innocence, a desire for something good and clean, honest, a desire for happiness, and what's wrong with that?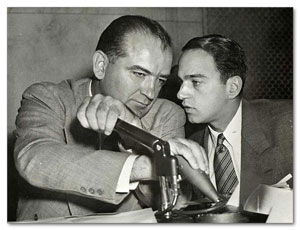 These post-war adults weren't avoiding reality as my generation chose to believe in the 1960's, no they had experienced first hand the hardship and horror everyday life is capable of laying at your feet and they were grateful to have a choice; they choose to embrace innocence.
Honestly the 1950's were not just Happy Days reruns; they were prosperous times, but they were not without difficult times as well. There was Korean War, Kefauver, Communism, McCarthy's black list, the cold war and spies.  This turbulent undertow was brought into everyone's homes by a new invention; Television.
I often wonder how different my life would have been without television. I don't say better, because I honestly don't know if it would necessarily have been better, just different. Television delivered the world into every home in America.  That's where I first saw Ike, Dwight David Eisenhower, on television during the Presidential campaign of 1952.  I'd seen photographs of the General in books and magazines, but he was the first Presidential candidate to come into my living room.
"I Like Ike" was the campaign slogan and it expressed the country's desire for simplicity, kindness, quiet strength and innocence. As the 34th President, Ike played golf a lot; at least that was how he was pictured. He was soft spoken and appeared easy going, you couldn't help like Ike, but the men who served under him knew what he was made of, remember this quiet man was the same man who planned and pulled off D-Day. If Ike had time to play golf during his Presidential watch, then no matter what the press said, you could go to bed at night with the sense that America was safe. Ike was at the helm.
Throughout my adult life I have remained curious about this man, about who he really was.  It was Ike who created the Interstate Highway System. While it added ease and swiftness to travel for all Americans, its main purpose was defense. The long straight away, open multi-lane highways could be used as landing strips or for swift movement of heavy armored equipment and troops, in the event on an invasion.  When I arrived for my second visit to Gettysburg, I decided seeing his home belonged at the top of my list.

I climbed on the bus for the 11:30 tour. The 10:00 tour had been sold out, this tour was not, just one other couple and me, a private tour of sorts.
In 1950 Dwight and Mamie Eisenhower purchased a 189 acre farm outside of Gettysburg, not far from the site of Picket's charge. They paid $44,000. The local farmers all thought Eisenhower had been taken.  The house itself was in disrepair; in fact part of it had to be taken down. 
Waiting to enter the modest white painted brick farm house, the driver points off to a mountain ridge in the distance, "Camp David is just over that ridge and in that mountain is the bunker." He correctly read my 'what bunker?' expression and continued. "It's the place where the President and Vice President ran the country from, immediately following 9/11."  I squint at the distant ridge, at the pastoral beauty and the reality that rested silently beneath it.
The front door to the home opened and we were greeted by Kay, the woman who would be our guide through the house.  Kay was retired, in her seventies or early eighties.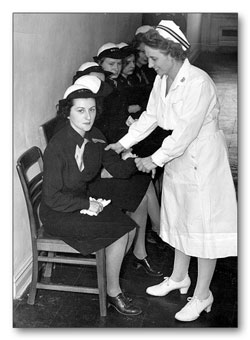 She was thin, spry, quite lovely and possessed a personality to match.  Mid-way through the tour she tells us she was a WAVE during World War II.  Her eyes told me she was proud of her service. In 1942 the US Navy Department created the Women Accepted for Volunteer Emergency Service."  Kay enlisted. She also took pride in her role at the Eisenhower house.  She liked Ike and Mamie and, in a way this was a way for her to continue her service to her Commander in Chief.
Ostentatious is not a word that comes to mind when you try to describe this house.  Small farm house rooms with low ceilings. The kitchen is still 1954 with green Formica counter tops and maple cabinets. The living room is of reasonable size but modest, a round sofa copied after one in the White House, a marble mantle from the Lincoln administration and gifts from visiting dignitaries.
Off the living room is the back porch. Ike enclosed the back porch. The wide windows reveal the beautiful rolling Gettysburg landscape.  This was his favorite room. Ike and Mamie played cards in this room. You may not expect this from a great warrior and leader, but Ike loved to paint and one corner of the porch was dedicated as his favorite place to create. His art work adorns the walls of the house and yes, he was quite good. The large console model television was there, too. Mamie loves to watch the soap operas, her favorite Kay confides was, "As The World Turns."